Hi there guys!
I'm really hyped to announce the big advertisement that we will be having starting from 14th september : third spot on
minecraftservers.org
for 2 weeks! Alot of players will be joining and there will be alot of competition along with events/droppartys/airdrops and many more cool things!
We came for survival back with the old spawn because the new spawn was way to big and players didn't like it actually. Hopefully you guys will like the new spawn and new updates on it! Same for skyblock, that server is fully ready to go. For survival / skyblock we are searching staff so please don't hesitate and make a good apply now!
Unfortunely there was a big glitch ( factions ) where people used the uncraft to get really rich on factions ( probably also on other servers ). From this glitch alot of people got rich which was not good so the economy got a bit broken due to it. Alot of spawners are in bases / other structures / etc etc are causing some lag on the server which kinda needs fixing. Also when alot of people join factions they would like to go for the ftop but for now they have no chance at it since the world is already going for 2 monhts.
This eventually leads to the thing that we kinda have to reset the world in order to gain alot of players on factions from this advertisement. I don't want you guys to leave redzone because it got resetted. No, shit is about to get started and we will reset the server 1 days before the advertisement ( 13th september - tommorow ) starts so spread the word right now and invite your friends to come and play on redzone!
The current ftop was for the faction Fictorious with leader r33d2k and he will receive the reward! Congratz!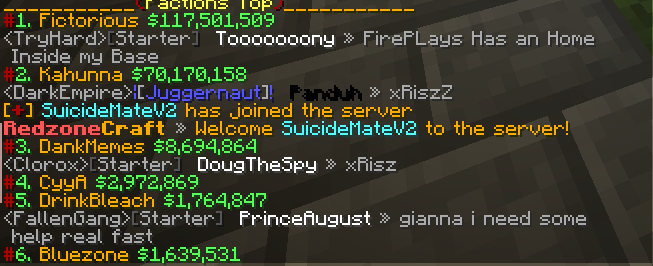 The current sale is 50% right, the advertisement costed alot so donations are always appriciated! Look here :
http://www.redzonecraft.org/shop
and if you have any questions, feel free to comment on here or make a ticket.